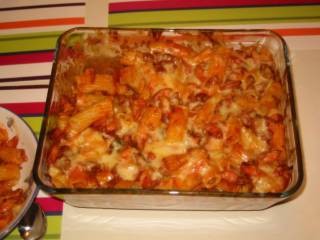 This is originally called Baked Macaroni but since most types of pastas can be used (fusilli, penne, rigatoni, radiatore, rottini, etc.) so I decided to call it 'baked pasta'. I used rigatoni in the picture above. The sauce is quite "Filipinized", i.e., it's sweetish and has hotdogs! You can add or substitute ham for the hotdogs. It's delicious and is a favourite of my kids. It can be used as a spaghetti sauce as well although it's best to reduce the water or thicken it with breadcrumbs towards the end.
Baked Pasta

500 gm pasta shapes (penne, rigatoni, macaroni, fussilli, etc.)
1 tsp minced garlic
1 medium onion - chopped
1 Tbsp fish sauce (patis)
1 Tbsp oil
500 gm minced beef (or pork)
350 gm hotdog - sliced lengthwise then diagonally
1 Tbsp soy sauce
500 gm passata (tomato sauce)
1/2 cup tomato ketchup
1/2 cup water
1 cup grated cheese (reserve 3/4 cup for topping)
1 red bell pepper - deseeded and cubed
1/4 cup milk

Cook pasta as directed in the package. Drain and set aside.
Saute garlic and onions in oil. Add minced beef and brown for a few minutes.
Add patis, cover and simmer for 5 minutes.
Add hotdogs, soy sauce, tomato sauce, ketchup, bell pepper, and water. Bring to boil and simmer for about 1 hour.
Add milk and 1/4 cup of the cheese. Simmer for 5 minutes or more until beef is tender.
Mix cooked pasta and sauce together. Arrange in a baking dish and top with remaining grated cheese.
Bake at 180C/fan 160C/350°F for 20 minutes. Serve.
NOTE: This sauce can be used for spaghetti as well. If the sauce is too thin for spaghetti add a few tablespoons of ground dry breadcrumbs and simmer for a few minutes.